ISDE, the European leader in legal education, is going to take part in one of the most prestigious events of the year organized by the Section of International Law of the American Bar Association the "2016 ABA Spring Meeting", which shall be held at the well-known Grand Hyatt Hotel in New York as from next April 12 until next April 16.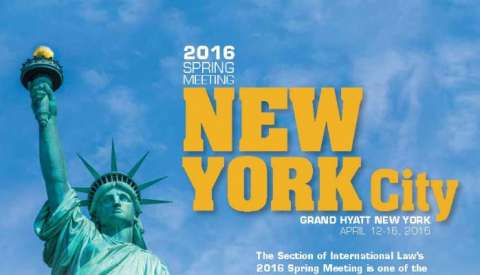 This event shall comprise more than 70 panels and conferences imparted by world-class speakers dealing with different international law topics, all of them centered on the conference theme «Liberty and Justice under International Law».
Top international law firms, top prestigious international companies, professors of the most prestigious universities, international business schools and even members of the U.S. Supreme Court Justice shall share this experience along with ISDE.
In this respect, we would like to remind that ISDE has presence in USA through his own headquarters ideally located in the emblematic Empire State Building in New York.
Currently, ISDE remains as the only Spanish Institution that provides official Master's programs in the Unites States that are officially recognized by the American Bar Association. In fact ISDE is the only European Law School which currently imparts a joint program along with the prestigious Columbia University in the City of New York, the Companion Degree Program «ISDE LLM in Global Sports Law and Columbia University MS in Sports Management«.
To conclude, we would like to highlight that ISDE has been included, along with 18 of its programs, in the Financial Times' «Innovative Law Schools» report, ranking first position in Spain, third in Europe, and fourth in the world.