ISDE, innovative Law School leader in Europe, is going to attend and be witness of one of the greatest events of the year regarding the Sports Law, "Sports Law for Rookies and Veterans", which shall be held this Friday 15 at the Grand Hyatt Hotel in New York.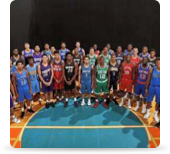 This event has been organized by "Cozen O'Connor", one of the top International law firms in U.S., with more than 600 attorneys in 23 cities across two continents. This seminar shall include a series of really interesting and uplifting panels focused on different current sport topics like "What is it like Working for a Sports League?", "Hot Topics in Pro Sports", or "The Role of Unions in Player Discipline", among others.
This series of talks shall be imparted by lawyers from top international legal firms, professional and amateur athletes, sports broadcasters, representatives from major sports leagues, NBA Coaches, CEOs of American Soccer Clubs and representatives of highly prestigious Universities and Law Schools such as Harvard and the School of Law of Miami.
With this awesome outlook, there's every chance that this event shall achieve a resounding success!! Let us make the most of this occasion to remind you that ISDE is the only Spanish Institution that provides official Master's programs in the Unites States officially recognized by the American Bar Association.
In this respect, ISDE is the only European Law School which currently imparts a genuine program, along with the prestigious Columbia University in New York, the Companion Degree "ISDE LLM in Global Sports Law and Columbia University MS in Sports Management".
Lastly, it is also important to highlight that ISDE has been included, along with 18 of its programs, in the Financial Times´ "Innovative Law Schools" report, ranking first position in Spain, third in Europe, and fourth in the world.