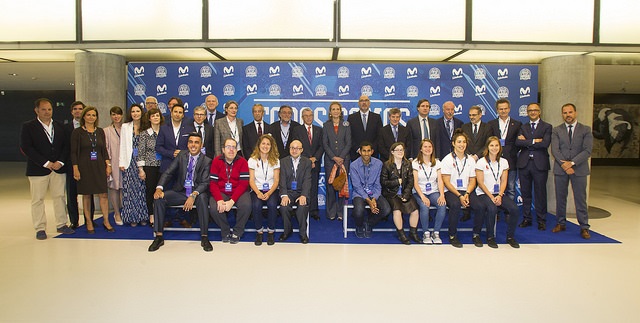 The IV Gala 'We are all Estudiantes' took place last Tuesday, held by the Club Movistar Estudiantes on the occasion of the official closure of the season. Among those attending the Telefónica District was María Pinedo representing ISDE as a faithful academic collaborator of the Club. It is an event chaired by His Royal Highness Infanta Doña Elena de Borbón and the President of Telefónica Spain, Emilio Gayo.
This edition wanted to highlight the fundamental role played by teachers, trainers and coaches in the different teams, highlighting the values of the sport and the philosophy that the Club defends. During the ceremony, emotive prizes were awarded, highlighting among the winners the special recognition that Forges received, as well as the delivery of the gold and bright badge of the Estudiantes Club to Luis Miguel Gilpérez.
Other personalities that received special recognition were Vicente del Bosque (former Spanish soccer coach and World and European champion); basketball masters Lolo Sainz, Manolo Coloma and Pepu Hernández; the 'Leonas' of the Spanish women's rugby team; the Universo Mujer, Plena Inclusión Madrid program; and the movie "Champions", directed by Javier Fesser.