ISDE
An academic institution born out of the heart of the legal profession.
History
ISDE is an academic institution born out of the heart of the legal profession. Representatives of the main national and international firms were involved in its foundation, with the objective of creating an academic institution dedicated to offer training of the highest level.
ISDE selects talented students from leading national and international universities, offers excellence-based training an therefore, introduces them in professional structures with sufficient guarantees.
ISDE is a center affiliated with the Complutense University of Madrid. Its students are trained in some of the most prestigious international universities, such as Georgetown University, NYU, Miami University and Jindal Global University, leaders in international rankings.
This double contribution of the best academic and professional partners configures a global training model that breaks the artificial gap between theory and practice and translates into a comprehensive professionalization method.
Research centers
The Research Centers are a type of collaboration with ISDE in order to implement activities related with training and research in the field of law and economics.
The Research Centers were created with the mission of promoting alliances with external partners and institutions from different fields in order to favor the development of Corporate Social Responsibility. The aim is to strengthen the relations with the business and professional sectors, through different initiatives of research and training developed within the framework of ISDE´s Research Centers.
ISDE´s Research Centers:
ISDE Research Center on Block Chain & Law
ISDE Research Center on Compliance
ISDE Research Center on Sports Law
ISDE Research Center in partnership with the Brains School Master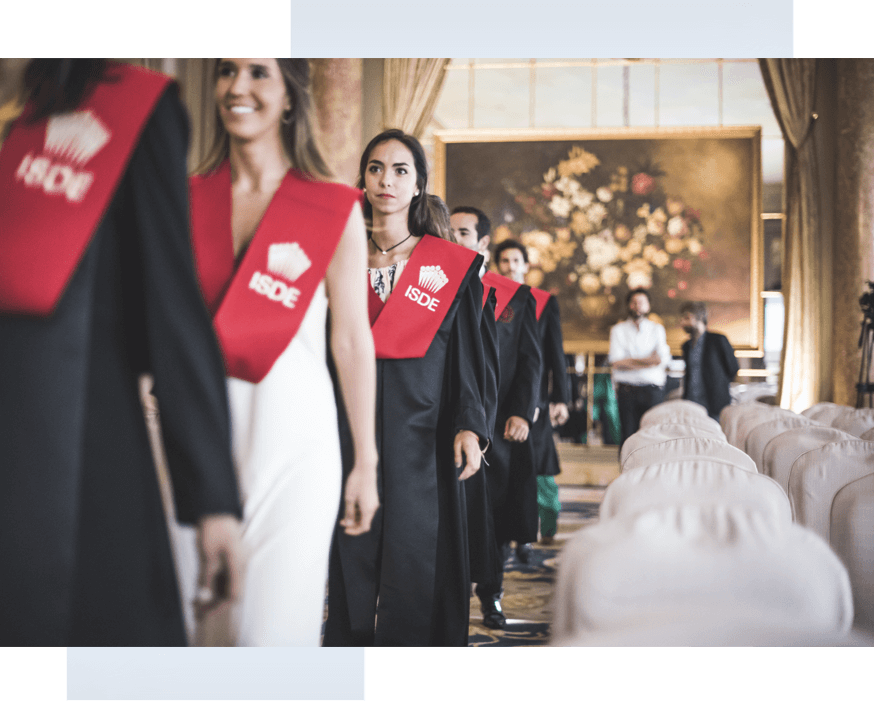 Profesional partners
ISDE was born out of professional circles, when representatives of the most prestigious law firms decided to found an institution that selects talented students to give them excellence-based training and therefore the potential to successfully integrate them into their teams.
Leading law firms, such as those of the London Magic and Silver Circle, American firms, continental Europe or the Asian market, professional services firms such as the Big Four, multinationals, institutions, sports related partners contribute with their best professional´s know-how to design, direct and teach our different programs.
See all our partners and associated firms
ABA Consultores
Abdón Pedrajas & Molero
Adesse Abogados, S.L.
Adopta
AGM Abogados
Alcántara, Blay & Del Coso
CMS Albiñana & Suárez de Lezo
Alemany, Escalona & De Fuentes
Alfred Font Barrot & Federico de Valenciano Jaumà
Almazor & Espuny Abogados
Alonso-Cuevillas, Abogados, S.L.
Altalex. Asesores Legales y Tributarios
Arraut & Asociados
Asesoría Jurídica del Banco de Valencia
Asociación Pro Derechos Humanos de España (APDHE)
Auditing Abogados y Economistas, S.L.
Auditing-BCM
Augé Grup
A&Z Law Firm
Azpitarte Nadal y Pizcueta, Abogados (Iberforo)
B.D.O., Audiberia, Estudio Jurídico y Tributario
Bailey & Marzano
Baker & McKenzie
Banc Sabadell
Barroso, Jover y Martí
Bartolome & Briones
Benow Partners
Bridge Mediation San Diego
Blay Blanc, Abogados
Bodegas Torres
Bravo Abogados
Brosa, Abogados y Economistas
Broseta Abogados
Brugueras, García-Bragado & Asociados
Bonfill Advocats
Bufete Alexander Pitts
Bufete Amorós, Abogados Asociados
Bufete Arenas
Bufete Martínez Aynat
Bufete Bonmatí
Bufete Carlos Pin, Abogados y Economistas
Bufete Casals Colldecarrera
Bufete Centro de Estudios Legales
Bufete Coca y Asociados
Bufete Conde – Escalza, Abogados Asociados
Bufete Dexeus, Abogados Asociados
Bufete Díaz y Asociados
Bufete Estany
Bufete Francesc Abellanet
Bufete Hernández Gil
Bufete Internacional
Bufete Jesús Blanco
Bufete Jordi Abel
Bufete Juan Enrique Pérez Jamar
Bufete López Barrionuevo
Bufete Marroquín, Abogados Economistas
Bufete Molina Cabrera
Bufete Molins & Silva
Bufete Ribalta, Abogados Asociados
Bufete Sterling
Bufete Trepat & García
Bufete Usón
Bufete Vega Sala
Bufete Volta
C .L. & A
Canonica Valticos de Preux & Associés
Casas & Ferran, Abogados
Cefiser, S.L.
Chapin, Fleming, Mcnitt, Sea & Cartner
China Sports & Law Research Center
Clifford Chance
Club Internacional del Libro
Clyde & Co
Coelho Ribeiro & Associados
Congente, S.L.
Consejo Superior de Deportes
Cordier Law Offices
Córdoba Roda
Cremades & Calvo-Sotelo
Cuatrecasas, Gonçalves Pereira
DAC Beachcroft /li>
Paul Davies
De Dios – Lanau & Asociados
De Olivar & Selva & Zegrí, Abogados Asociados
Deloitte Touche Tohmatsu Limited
Demolin & Brulard
Departamento Jurídico de Damm, S.A.
Departamento Jurídico de El Corte Inglés
Departamento Jurídico de FECSA-ENDESA
Departamento Jurídico de Catalunya Banc
Departamento Jurídico de CaixaBank
Departamento Jurídico de la Fundación Privada Tutelar Aspanias
Departamento Jurídico de Nestlé España, S.A.

Departamento Jurídico de Nissan Motor Ibérica
Departamento Jurídico de Pepsico, S.A.
Departamento Jurídico de Sorea, AGBAR
De Pascual & Marzo Abogados
Despacho Ferrer de San Segundo, Abogados y Asesores
Despacho Melchor de Las Heras
Díaz-Bastien Abogadosli>
Diaz Reus
Diputación de Barcelona
DLA Piper
Domenech Mascaró, Abogados
Dr. Frübeck Abogados
Dhutill
Ernst & Young
Ebame Abogados Asociados
EDM Holding
Egea Abogados
Escudero & Sastre & Heredia
Estudio Jurídico Rodrigo de Larrucea
Estudio Jurídico Ferrer – Monforte & Bonmatí
Estudio Jurídico Rodríguez Mourullo
Estudio Jurídico Venegas Caruana
Euroforo Arasa de Miquel Abogados
Eversheds Lupicinio
Fàbregas i Oriola
Fenwick Elliot
Fes Gabinete Jurídico
Ferrovial
Figueroa, Yáñez & Huidobro
Finers Stephens Innocent
Font Abogados y Economistas
Foro Legal, Asesores
Franco Caiado, Abogados
Freshfields Bruckhaus Deringer
Fundación Lealtad
Gabinete Ros Petit
García Deville Palavicini Abogados
García Vidal, Abogados
GDP Abogados
Giebelmann & Salvoni
Gil Gibernau Abogados Asociados
Giménez – Salinas
Gloor & Sieger Rechtsanwälte
Goldman Antonetti & Córdova, LLC
Gómez-Escolar Abogados
González Franco
Goñi y Cajigas Abogados
Gomáriz, Rofés & Carballeda, Abogados Asociados
Gómez-Acebo & Pombo
Gómez- Toledo Abogados Asociados
Grant Thornton
Guzmán Guía Calvo
Halliwells
Hammonds
Herbert Smith Freehills
Hernández Baquero, Abogados Economistas
Herus Estudio Legal
Hispajuris A.I.E.
Hochelaw
Hogan Lovells
IBM- International Business Machines, S.A
IDLO
ISLAW Abogados
ING Lease España
Inter-American Bar Association
J. Carlos Pin Asesores
Jausàs
Javier Boig Reig, Abogados
Jesús Casas Robla
Jesús Zarzalejos Nieto
JGBR Horwath
Jiménez Astorga
Jiménez de Parga Abogados
Joaquim Hergueta, Abogados
Joli-Coeur Lacasse Avocats
Jones Day
José Ramos, Abogados
Jufresa y Asociados, Abogados Penalistas
KPMG Abogados
KSB Law
Laboratorios Lacer
Lahoz & De Ramon
Landwell
Lamy Lexel
Larrauri & López Ante
Legal Link, Derecho de las Telecomunicaciones y Tecnología
Legálitas
Lener
Lex Consulting Abogados S.L
LG
Liga de Fútbol Profesional
Linares Abogados

Lindhs Advokatbyra
Linklaters
Llaneza y Asociados, Abogados
Lliset Abogados Asociados
Lobao-Subirats
Ludovissy & Associes
Lupicinio International Law Firm
Manuel Delgado, Abogados
Marco Legal Abogados y Economistas S.A.
Marianne C. Cordier
Marimón Abogados
Martell Abogados
Martínez Lage, Allendesalazar & Brokelmann (MLAB)
Marzars, Abogados
Mcv McConnell Valdés
Med Group
Miralbell Guerin, Abogados Economistas
MLA Associates
Monereo Meyer Marinel·lo Abogados
Montané Martínez Conde, Advocats
Morgan & Morgan
Moseley Prichard Parrish Knight & Jones
Murrillo & Arroyo Abogados
Mutua Intercomarcal
Nogueira Abogados
Ogazón Rivera
Olleros Abogados
Oller Abogados
Ortín & Asociados
Osborne Clarke
Pannone & Partners
Pascual, Marzo y Vilaseca
Paulo Roberto Murray Advogados
Pérez-Llorca
Phillips Solicitors
Pintó Ruiz & Del Valle
Piqué Vidal y Abogados Asociados
Portabella- Fernández de Villavicencio Abogados Asociados
Pou de Avilés
Pou Viver
Pritchard Englefield
Proasa Sevilla, S.A.
Rafael Blanes Albiñana y Cía
Rafael Montes, Abogados
Rakisons Solicitors
Ramón y Cajal Abogados
RBBM Advogados Sports & Entertainment
RCD Espanyol
Registros de la Propiedad
Registros Mercantiles
Riba, Abogados
Riba Vidal Abogados S.L.
Rivera, Bolivar y Castañedas
Rivero & Gustafson Abogados
Roca Junyent
Rödl & Partner
Rosselló & Musolas
Rousaud, Costas, Duran
RSM Spain
Ruiz-Huerta & Crespo Abogados
Russin, Vecchi & Heredia Bonetti
Sainz de Buruaga
Sainz de Baranda
Salans
Salvatierra Abogados y Fiscalistas
Sánchez del Águila y Ballabriga
Santamaría & Pera
Santiago Mediano Abogados
Sastre Papiol, Abogados
Schiller Abogados
Schwarz Kurtze Schniewind Kelwing Wicke
Sierra, Rouanet y Corral, Asesores S.L.
Silva, Riba & de Lachica, Abogados
Socoró, Autó & Nadal
Soler Marco & Asociados
Spreafico Marsaglia
Sprim Box España
Studio Legale Biamonti
Studio Legale Rubino Sammartano
Studio Legale Sica
Tamborero del Pino
Tebas & Coiduras
Tondreau et Associés
Torralba y Asociados
Tribugest
Uría & Menéndez
Ventura Garcés & López-Ibor Abogados
Vialegis
Vilaseca, Abogados
Vives Rodríguez de Hinojosa
V2C Abogados
Yúfera Abogados
Zarraluqui Abogados
Academic partners
We are proud to have national and international academic partnerships with the aim of offering current and global experiences in the training of our students.
More than 250 law firms and companies in more than 50 countries have joined the project.
ISDE maintains a close relationship with business and academic sectors. Currently, it collaborates with more than 250 associated law firms and companies from multiple countries. Additionally, ISDE has partnerships with prestigious universities such as New York University, Georgetown, University of Miami and Jindal Global University, among others.
The objective of this collaboration is twofold: to guarantee that students receive permanently updated training and opportunities to develop their professional careers, and also to encourage collaborating law firms and companies to be more competitive and socially responsible thanks to the labor insertion of young talents trained in an environment of international excellence.
Faculty
ISDE´s faculty is composed of professionals with extensive experience in research and teaching. Most of them are doctors and practicing lawyers in leading law firms and companies, which proves their merit in research coupled with a practical viewpoint of the profession.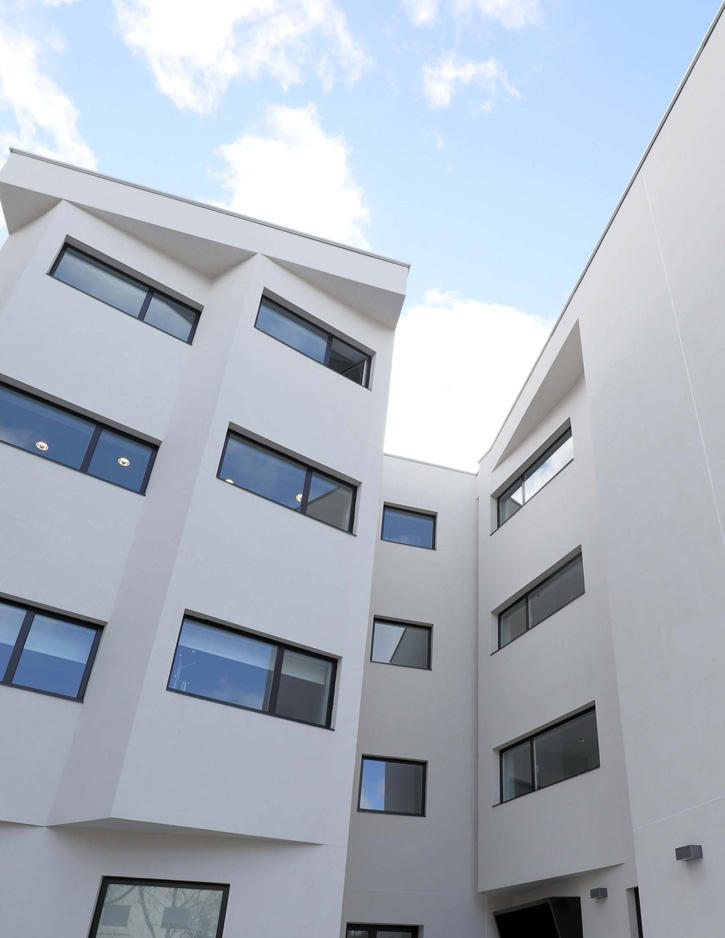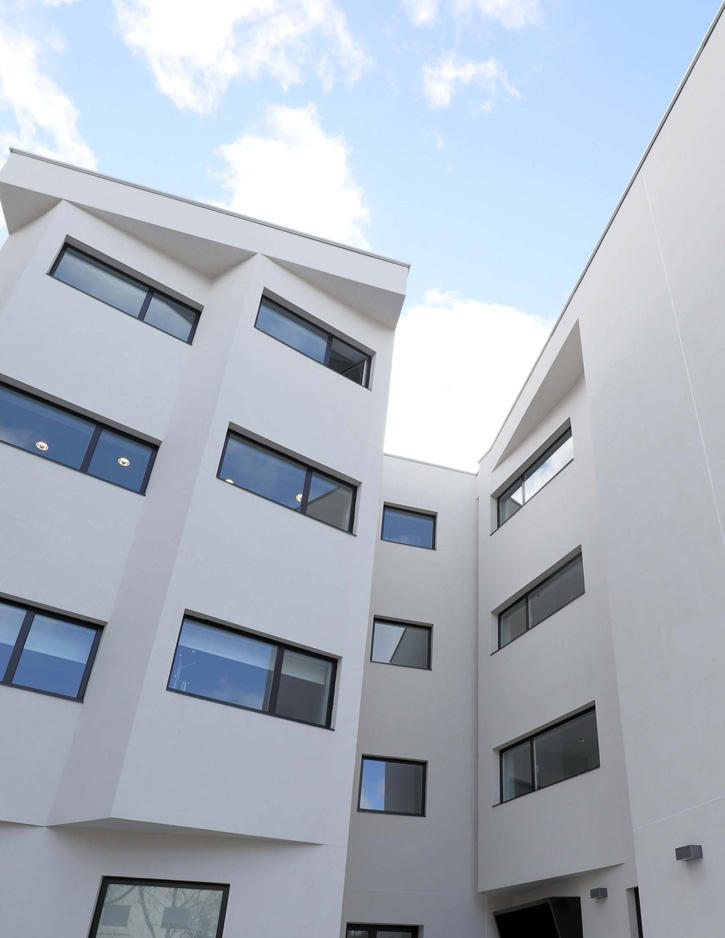 Faculty
ISDE´s faculty is composed of professionals with extensive experience in research and teaching. Most of them are doctors and practicing lawyers in leading law firms and companies, which proves their merit in research coupled with a practical viewpoint of the profession.
ISDE environment
At ISDE, students have all our support to solve academic, accommodation, practice of sports or bureaucratic related needs, with the implementation of an individualized treatment of requests in order to tend to their particular needs.
Accommodation
We have collaboration agreements with specialized partners that offer accommodation services. If a student requests it, we can advise on several options: shared and single apartments, residence in Spanish families for those foreign students who want to have a better understanding of the local culture etc.
If you need assistance with any of these alternatives, we will be glad to provide it.
Social events and activities
At ISDE, you have the leading role. We inaugurate the course with an opening ceremony and during the term, we organize breakfasts, social activities and celebrate Christmas. Finally, the course concludes with the graduation ceremony attended by prominent professionals from the legal sector, elected officials, teachers, tutors and last but not least the students' families.
ISDE Forum
ISDE FORUM is an intellectual reflective event, with an eminently practical focus, covering matters that affect, directly or indirectly, the interests of companies, public administrations, political parties, institutions and other interest groups.
Health services
Spain has a health system that is of a public nature, therefore treatment is universal. If you are a citizen of the European Union, you can obtain the European Health Insurance Card. If you prefer to do so, you can also opt for private health insurance.
Database access
As an ISDE student, you will have access to the "Casos Reales" database of Difusión Jurídica, among others. These platforms will help you to attain a high level of knowledge in procedural, corporate and international case law.
Procedures and student visa
If you are a student from a non-EU country or a signatory of the European Economic Zone Agreement, you will have to request a student visa in your local Spanish Consulate. We will assist in said procedures.
ALUMNI
The Alumni Club allows us to maintain the relationship between the alumni of the different ISDE promotions, something very important both on a personal and professional level.
To become a member, please visit our Alumni section to find out about all the benefits.
Job offers
To promote labor insertion of students and Alumni into the professional sector, we offer a free job offer service, in which many leading law firms and companies collaborate.
Over the years, this service has enabled students to integrate quickly into law firms and companies via the selection of highly trained professionals.