Access to the Practice of Law Course
Going beyond the spirit of Law 34/2006, ISDE has designed a course for access to the practice of law that not only provides the knowledge and professional skills needed to pass the subsequent State Examination, but also introduces its students to the professional practice of elite law firms and departments. To this end, it relies on the professional expertise of more than 250 national and international firms, which train students during the first phase of the program and integrate them into their staff during the internship phase, with a view to their definitive incorporation.

Adding the best of the profession and the academy, the artificial gap between theory and practice is overcome and the students move from the abstraction of the hypothetical case to the direct application in the real case. The final objective is no longer just to pass exams. It is about giving the best possible advice and defence to the one who will be the centre of our professional work: the client.

The format of the program also allows us to coordinate it perfectly with any of the different specialization masters of ISDE, such as

Master in International Law
Master in International Law, Foreign Trade & International Relations
International Master's Degree in Tax Advice
Master in International Sports Law
Master in markets, industry and sports and entertainment law
Master in Corporate and Financial Management
Master of Family Law

The program can be started at three different times of the year. In January, April or September.

During the first phase of the program, students will follow their classes in an online format, complemented by five face-to-face meetings, which will take place at the end of each of the modules.

During the second phase of the program, students will join the professional practices, in some of the more than 250 law firms and legal departments of big companies, which are ISDE's collaborators.

It is also compulsory to do an end-of-year project.

After obtaining your degree, you will be able to practice law in many areas:

Law firms and consultancies in all areas of law (commercial, civil, tax, labour, administrative, industrial and intellectual property, European law, public international law, real estate, corporate, procedural, criminal or international commercial law, among others).

Legal departments of national and international companies.

Staff of international bodies such as the European Union, the UN or the European Free Trade Association.

Other types of entities, such as foundations or NGOs.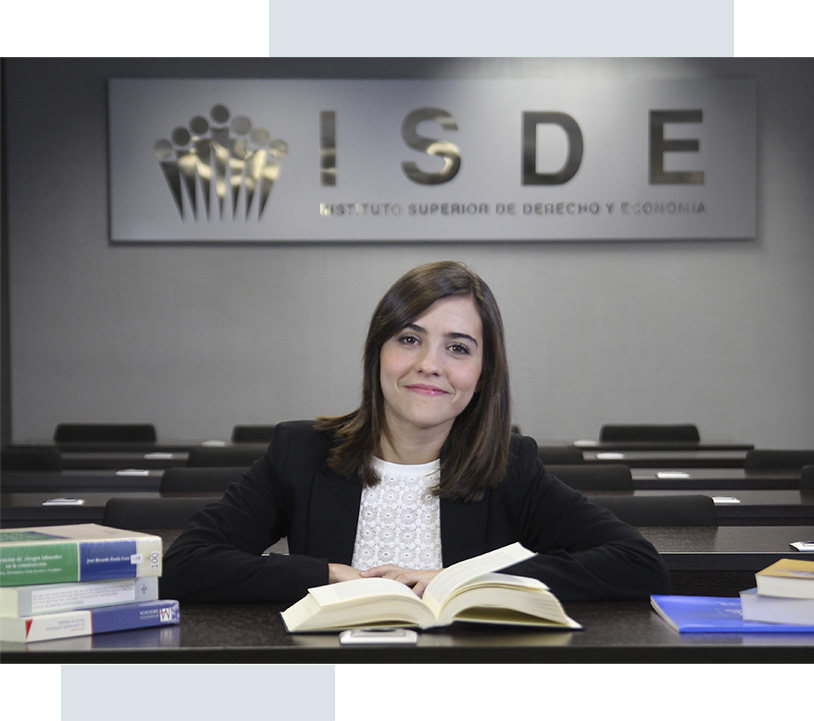 Partners