Access + Master in International Sports Law
With the aim of training the best prepared lawyers, ISDE, Carlos III University and the Il-lustre Col-legi d'Advocats de Terrassa have been inspired by Law 34/2006 when designing a programme designed for students to acquire the necessary skills and competences to practice in a globalised context.

This change of model has sought to harmonise the Spanish system of access to the legal profession with that of the rest of Europe, so that law graduates must now complete their training with specific studies in law and accredit their knowledge in a state test. This new system responds to an old aspiration of the profession: that those who enter it have sufficient preparation to practice with all the guarantees.

Apart from following the spirit of the Access Law, the joint course organized by ISDE, UC3M and ICATER takes into account the requirements marked by the phenomenon of globalization, a framework in which new lawyers will practice their profession, which tends to bring together the different known legal systems by bringing their institutions closer together.

Two phases: 

Phase One: Classroom Instruction: 

One academic year for access studies and one academic semester for the Master in International Sports Law.

 

Classes from Monday to Thursday. Schedule, according to the chosen access modality.

 

A few mornings a week, students will attend conferences and practical sessions at the ISDE office and collaborating institutions, with offices in the city of Madrid.

 

Fridays dedicated to personal study, group work and workshops.

 

The Master in International Sports Law includes two training stays abroad. The first at the University of Cambridge. The second in Switzerland, visiting the most important international sports institutions and some of the specialized firms based in that country.

 

Second phase: Integration in practices: 

Mandatory phase. An academic semester in law firms or legal departments of large companies, sports clubs or institutions.

 

Master in International Sports Law

National or international sports intermediary
Representative Agencies
Law firms, audits and Big Four
Private and public federations and institutions
National or international sports entities
Sports Entertainment Industry
E-Sports and video games
Organization and management of sports events
Training and education
Management in sports services companies
Organization of sports events

Access to the practice of law

The graduates of the Course will be able to apply, without any doubt, to work in the most prestigious law firms of our country, thanks to the training in excellence they receive and the internships in firms that have already committed their collaboration with ISDE.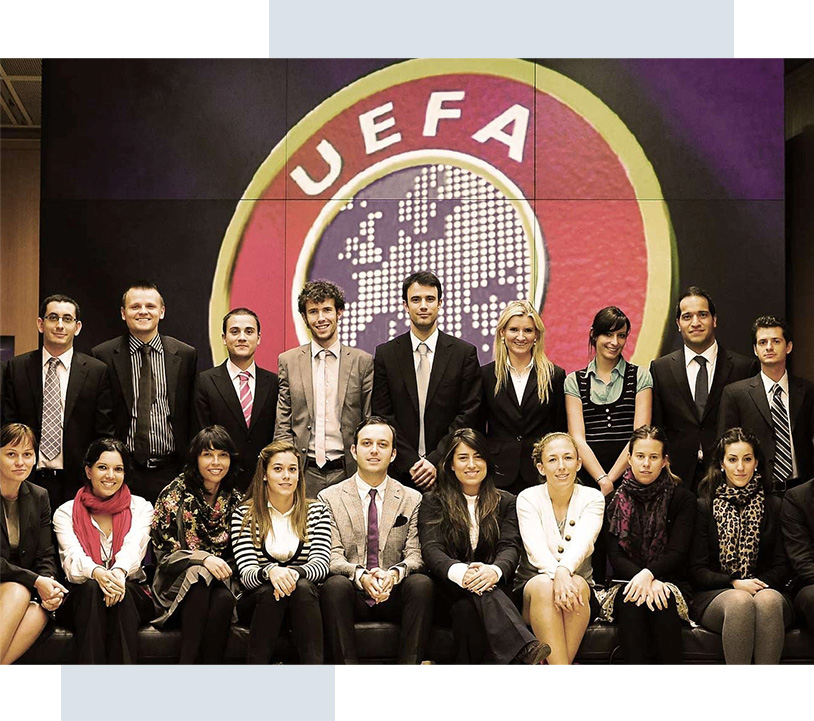 ISDE ALUMNI
Dr. Marc Lenz
DFL Head of Corporate Strategy; UEFA Club Licensing Committee
Fernando Delgado
Client Services Executive. Sponsorship Department at Real Madrid CF
Alvaro Manuel Gil Baquero
Lawyer at Atlético de Madrid
Íñigo Riestra
International Affairs Director at Federación Mexicana de Fútbol Asociación A.C.
Alberto Díaz Lorente
Legal Counsel at LaLiga Competition Operations Department
Nicole A. Santiago
Coordinator, Player Relations & Competition at Major League Soccer
Marissa Sunio
Legal Counsel at WADA
Wouter Lambrecht
Attorney at Law at FC Barcelona
Jake Williams
Legal Counsel at Sportradar AG
Pedro Varas
Responsible for Integrity at LaLiga
Stefano Malvestio
Attorney at Law at Bichara & Motta Advogados
Eduard J. Scott
Chief Operations Officer at Euroleague Basketball
José Carlos Oliveira
Lawyer at Sporting Clube de Portugal
David Barrufet
Handball Manager FC Barcelona
Guillermo Amilibia
Legal Department at Real Sociedad
Tiran Gunawardena
Associate (Sports Law) at Mills & Reeve
Koji Nakata
Chief Relationship Officer at Kashima Antlers
Ornella Desirée Bellia
Head of Legal Affairs at the European Leagues
Marc Cavaliero
Partner at Kleiner & Cavaliero AG
Takehiko Nakamura
President and CEO of Blue United Corporation
Oleg Zadubrovskiy
Head of Legal at FC Zenit
Carlos Pérez
LaLiga Chief Executive Officer
Benoit Pasquier
General Counsel & Director of Legal Affairs of the Asian Football Confederation
Marco Vedovatti
Associate at Cuatrecasas Gonçalves Pereira
Andrés Galicia
Director of Sports Marketing at Televisa Deportes
Michaela Pietraszko
Legal Counsel at UEFA
Gauthier Bouchat
Legal Counsel chez FIFA
Robert Pongracz
Vice President of the Romanian Football League
Catherine Pitre
Head of Case Management at Sport Resolutions (UK)
Gursimran Brar
Legal Counsel at Asian Football Confederation
Natalie St. Cyr Clarke
Legal Affairs Manager at FIBA
Arturo Galván
Legal Department at Málaga CF
Ryan Lake
Associate at LIBRA LAW Ibarrola & Ramoni Avocats
James Mungavin
Counsel at Lombardi Associates (Scotland)
Stephen Bock
Legal Affairs Manager at Fédération Internationale de Volleyball
Mr. Aitkhozhin Azamat
Secretary General of the Kazakhstan Football Federation
Brianna Quinn
Sports arbitration at Lévy Kaufmann-Kohler
Anil Gursoy
Head of Legal at Trabzonspor FC
Rishi Sehgal
Director of Business Development and Legal Affairs at NASL
Gilbert Jiang
General Counsel & Head of International Affairs of Hebei China Fortune Football Club
Gisele Cesário Cabrera
Lawyer at Santos Football Club
Monserrat Jiménez Granda
Legal Director in CONMEBOL
Ramunė Bistrickaitė
Head of Public Affairs at Sportradar AG
Victor Targino
Lawyer at Sport Club Corinthians Paulista
Yelena Giselle Hazimn
Puerto Rico Soccer Federation