The ISDE Global Sports Law and Columbia University Sports Management Companion Program kicked off with New Student Orientation this week with breakout sessions to review the program curriculum, student and faculty expectations, class demographics, career resources, and student services.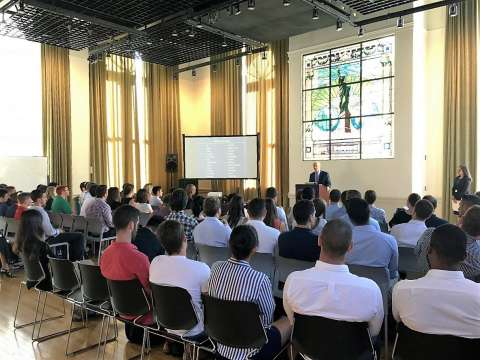 ISDE and Columbia University School of Professional Studies are proud to launch the 2nd edition of the Companion Degree Program for internationally-oriented sports industry professionals.
This companion program is the only offering in the market created with an external industry perspective. Qualified students will earn two professional degrees – Columbia's market-leading Master of Science (MSc) in Sports Management and ISDE's innovative Master in Global Sports Law – over the course of 12 months of intensive classroom study in New York City, and another four to six months of hands-on internship experience with a leading sports organization in the United States, Europe or elsewhere.
Courses provide foundational instruction on the sports industry combined with specific training in sports (accounting, finance, marketing, personnel management, and analytics) and law (intellectual property law and alternative dispute resolution).
Click here for more information about the program.