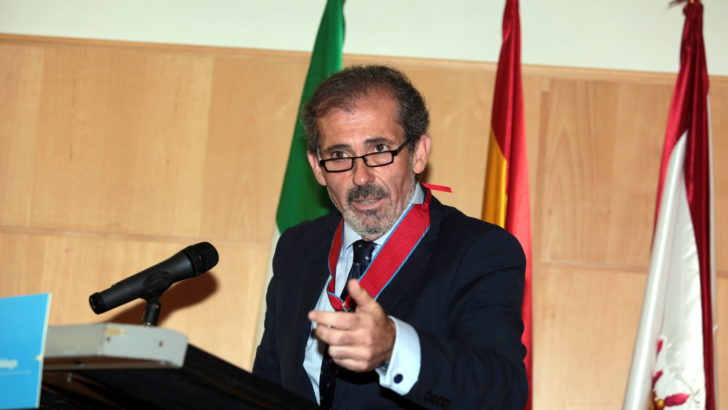 The Minister of Justice, Rafael Catalá, has imposed the First Class Distinguished Cross of San Raimundo de Peñafort to Francisco Javier Lara, Dean of the Málaga Bar Association and professor of deontology of ISDE´s Law Degree
The ceremony was attended by, among others, the mayor of Málaga, Francisco de la Torre; Councilor of Justice, Rosa Aguilar; President of the Spanish High Court, Lourdes García Ortiz; President of the Labor Chamber of the High Court of Andalucía in Málaga, Francisco Javier Vela Torres; Chief Prosecutor, Juan Carlos López Caballero; the Provincial Coordinating Secretary, Ángeles Miguel; Lieutenant Colonel of the Civil Guard, Roberto Blanes; and the Provincial Commissioner, Francisco López Canedo.
The Minister has affirmed that with this distinction the services rendered to Advocacy by Francisco Javier Lara are recognized and he has highlighted the strength, nobility and work ethic of the Dean of the lawyers of Málaga, qualities that he assured, he inherited from his parents. In addition, he highlighted Lara's "praiseworthy" work when defending the law its presence in Málaga´s society. The ISDE teacher has shown his gratitude for the achievement, especially to his family, the Government of Spain and the promoters of the initiative: the Dean of Honor of the Bar Association, Fernando García Guerrero-Strachan; and the Dean Emeritus, José María Davó.
On the other hand, the Minister of Justice has also awarded, posthumously, the member of the Bar Association of Málaga and Corporal of the Civil Guard Diego Díaz, who lost his life last March in the Sevillan municipality of Guillena when trying to help several people as a result of the flood of a stream.