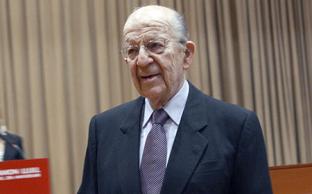 On May 9th, the economist Joan Ros Petit left us at 93 years of age. He was born in Barcelona in 1927, was a mercantile intendant, economist and certified accountant. He started his professional activity in 1946 and founded, in 1950, the firm Ros Petit Legal and Tax Advisors that he has managed to date.
Patron of the private Ramón Llull University Foundation and advisor to the Governing Body of ISDE, he was patron of the Sanitary Management Foundation of the Santa Creu i Sant Pau Hospital, as well as a member of various institutions dedicated to the field of health services.
He received the title of Knight of the Order of San Gregorio Magno, granted by the Holy Father Benedict XVI in 2007, and the Gold Medal of the URL, delivered on May 10, 2011. Rest in peace.