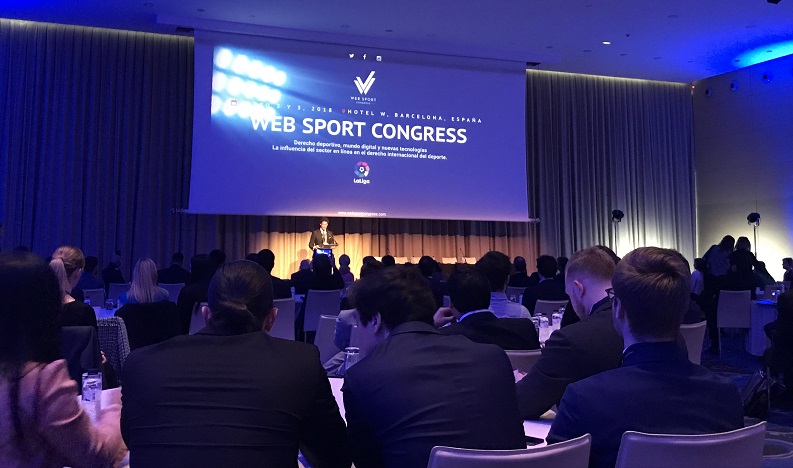 Barcelona city got light last week celebrating one most important tech event around the world: Mobile World Congress. Only a few days later of the closing, Barcelona hosted another unique event positioned as an unavoidable meeting of sport, law and tech world: The Web Sport Congress (WSC), organized by CIMA Publicidad and Palabe.
First edition WSC has been a great success: more than 350 attendees, 14 roundtables, 62 speakers and 30 mass media. The WSC get a foothold as the first big international meeting about sports law and technology that promotes synergisms of new technologies with the sport. The event held at symbolic W Hotel, an exceptional enclave.
In the most special moments of the Congress, Germán Ruiz, ISDE Deputy General Manager; presented Nacional Award Web Sport Congress to Javier Tebas, LaLiga president; and International Award Web Sport Congress to Gianni Infantino, FIFA president.
Relevant law firms and companies in the sphere of sport law supported resolutely the Congress: Iberdrola, Grant Thorton, Sportia, Iusport, CIMA Publicidad, Clifford Chance, Cruyff Institute, BDO, Cazorla Abogados, ETL Global Sportdesk, Osborne Clark, Laffer Abogados and Deporlegal.
The opening act was leaded by Javier Tebas, Don Davide, Palabe General Manager; and Mr. Jorge Pintó, ISDE president. Throughout two days the Web Sport Congress has disclosed the future sport keys, with latest debates as women sport promotion, eSports, matches regulation, transfer of minor age players, online bets…
A forum in which sport, law and tech professionals and students from different countries around the world could meet up at this first international event.
Doubtlessly, the Web Sport Congress is here to stay!