On November 5th the institutional presentation in the Bar Association of Oviedo of the Practical Course on Corporate Tax Law took place, which was attended by Mr. Germán Ruiz, Deputy General Director of ISDE, accompanied by Mr. José A. Fernández Pérez Campoamor, Tax Inspector, and Luis Pérez, responsible for the extrajudicial area of the ICA Oviedo Training Center.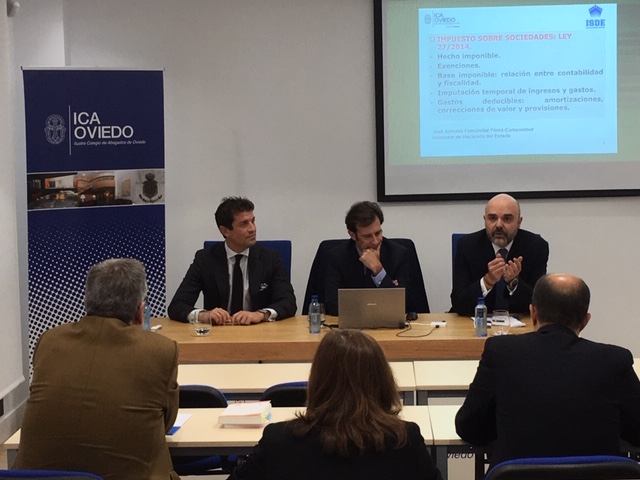 The course, which is being held in the Bar Association's training center on days 5, 7, 12, 14 and 19 of November, is designed to bring the practical reality of the Corporate Tax Law complex closer to the lawyer, with an in depth vie during different sessions and the most significant and relevant aspects of it. The Faculty of selected speakers, formed in its entirety by tax inspectors, lawyers specialized in tax law and auditors, confers that eminently practical vision that is required by the sector.
Among the experts who will teach their respective subjects, are Mr. José A. Fernández Pérez Campoamor, Tax Inspector; Mr. Juan Ignacio Molina Baquero, Tax Inspector; Mr. Carlos Cañas Miralles, Attorney at Ontier; Vanessa Méndez Suárez, Lawyer at Deloitte, and Silvia García Gallego, Auditor at Deloitte.