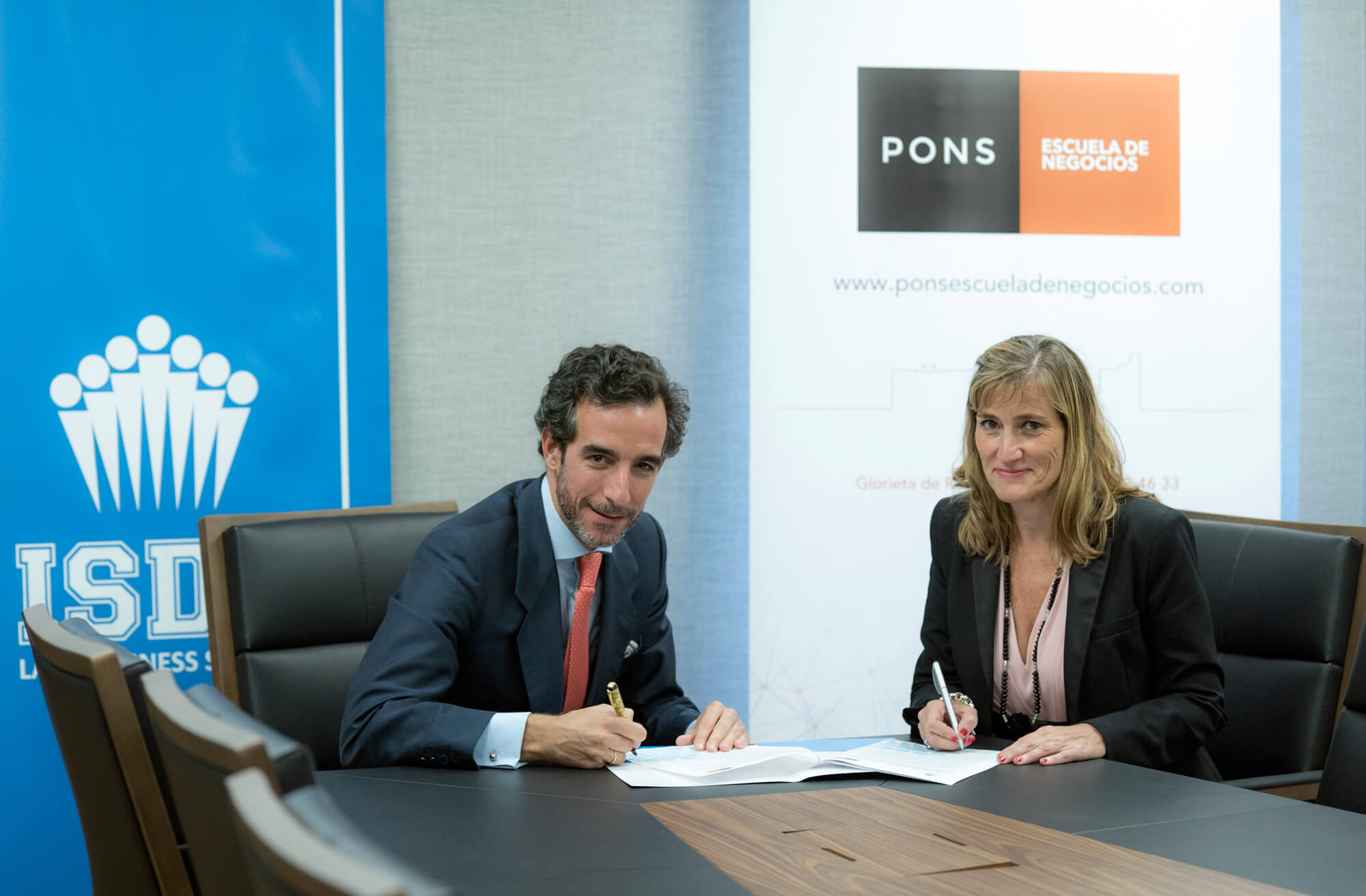 Pons Business School, a division of PONS specializing in training and management solutions for the business sector, and ISDE, an institution specialized in economic legal training at the highest level, have signed a collaboration agreement for the joint delivery and promotion of the Master's programs of Industrial, Intellectual, Competence, New Technologies and the Master in Management and Representation of Artists and Athletes.
The agreement, effective from the beginning of the 2018-2019 Course, adds both programs to the wide range of ISDE training in postgraduate specialization mainly in the legal, fiscal and financial fields, and will be taught in the new school headquarters of Calle Serrano 208 in Madrid, with more than 7,500 m2 of campus available for students.
With this strategic alliance, signed by the Director of ISDE, Juan José Sánchez Puig, and the Director of PONS Business School, María Jesús Magro, the training division of PONS joins the more than 200 national and international firms they already participate regularly in the development of the ISDE programs and thus become a strategic partner of the institution for the implementation of the two main specialized training programs of PONS. For its part, the agreement is for ISDE to add to its training portfolio two master programs already consolidated in the market in which more than 250 students linked to the field of law, business management, industrial property and new technologies have already participated, areas with great demand of professionals by companies in recent years.
Thus, during the next month of October, the XIII promotion will begin of the Master of Industrial Property, Intellectual, Competence and New Technologies, a postgraduate program that is already a reference for all legal professionals linked to the management and protection of intangibles; while the Master in Management and Representation of Artists and Athletes will celebrate its sixth edition this year, with more than 100 students from the Bachelor in different disciplines such as Law, Marketing, Advertising, Management, Sports Sciences, Performing Arts, Fashion Design and Fine Arts, among others.
For María Jesús Magro, the participation of ISDE in the joint management of the masters of PONS Business School "is a great step forward in the consolidation and international promotion of our two main postgraduate programs, since we have from today with the support of the only center created by the law firms themselves, a key subject for our master's degrees, and one of the most recognized centers both by legal schools and by the law firms themselves, in Spain and in the world."
Juan José Sánchez Puig, Director of ISDE, believes that "the agreement with PONS brings ISDE even closer to our goal of continuous pursuit of excellence. It supposes the continuity of our strategy of alliances with large firms, both national and international, that offer real synergies and that allow students to access the best training offer. "We trust that collaboration in these two major programs, in which PONS is a pioneer, will lead to the generation of new initiatives adapted to the dynamics of the market."