The Instituto Superior de Derecho y Economía ISDE, which has the largest training offer specialized training in sports law, has signed an important agreement of institutional collaboration with the Spanish Association of Sports Law (AEDD). One of the first actions in which will be reflected this alliance will be the participation of ISDE in the next National Congress of Sports Law, the AEDD organized on 21 and 22 November at the Bar of Córdoba.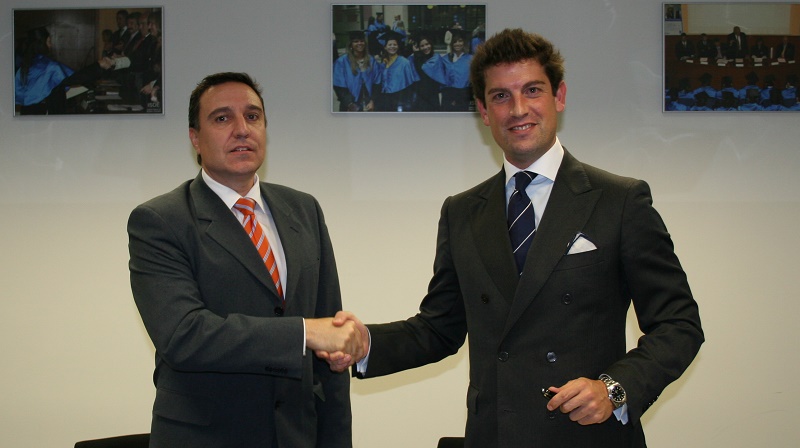 The agreement was signed at the headquarters of the ISDE in Madrid by Javier Rodríguez Ten, secretary general and communication of the Spanish Association of Sports Law and Germán Ruiz, deputy director of the Instituto Superior de Derecho y Economía.
Both ISDE and AEDD considered of interest cooperation between the two institutions in training and participation in joint projects, so by this agreement they will collaborate on training and technical fields, with joint projects in Spain and abroad.
One of these early collaborations will be reflected in the upcoming National Congress of Sports Law, in which over two days the issues of greatest interest will be analyzed by a group of professionals of the field, with experts like Eduardo Gamero, Professor of Law; Alberto Palomar, judge and professor of administrative law; Sandra L. Echeverri and Javier Rodríguez Ten, specialists in Sports Law.
At this congress ISDE will have a very active presence with regards to the professionals of sports law, with its wide range of executive programs aimed at specialists in this branch, the largest training opportunities offered in our country and at the International level: The Global Executive Master in International Sports law, and Master in Sports Management ISDE-IUSPORT, the TAS-CAS Course of Arbitration for Sport and the Master in Sports Law ISDE-Unidad Editorial.
ISDE is a skilled legal training center, with offices in Madrid, Barcelona, Mexico, Bolivia and New York, and maintains academic cooperation agreements with prestigious universities of Cambridge University, Columbia University, St. John's University, University of Florida, University Carlos III of Madrid and Universidad Complutense, among others.
ISDE has been highlighted in the international ranking of the best law schools in the world that is published each year by the prestigious British business daily newspaper, Financial Times. And it is the first Spanish Law School in achieving recognition of the Bar of Madrid and Barcelona. Currently it has the approval of the General Council of Spanish Lawyers (CGAE) and the Council of Bar Associations of Catalonia (CIPAC).