The Madrid office of ISDE (Instituto Superior de Derecho y Economía) was the venue for the opening of the institute's second edition of the Global Executive Master in International Sports Law. Designed for professionals with experience in Law and Sports Management, the programme will combine online training and a number of on-site sessions in Madrid city.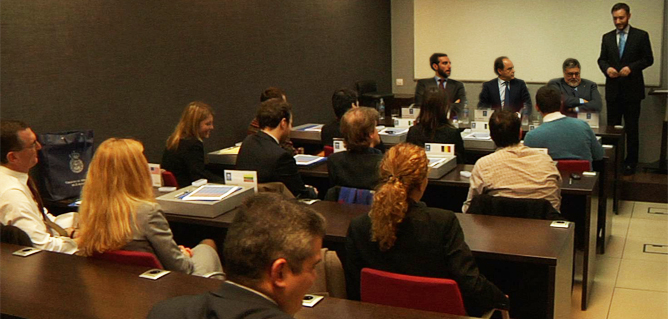 The presidential board was comprised of the President of ISDE, Jorge Pintó; the Director of ISDE, Juan José Sánchez; and the Programme Director, Efraim Barak. The opening words of welcome were delivered by Juan José Sánchez who highlighted the exclusivity and experience of the faculty staff, before going on to encourage students to be "excellent students and to work hard to become top professionals".
Along similar lines, Efraim Barak, an Israeli lawyer specialised in Sports Law, expressed his delight at opening this second edition of the programme, given that "there are many lawyers around the world today who are interested in practising this branch of Law and this Masters make things easier".
In addition, Mr Barak highlighted the diverse cultural backgrounds of the students, who come from countries as diverse as Russia, Germany, Greece, Romania and Mexico – which is absolutely essential for the "exchange of information and the networking this leads to".
The event was closed by ISDE's President, Jorge Pintó, who assured all of the students that "their work would benefit themselves but, more importantly, it would benefit the institutions for which they work and the whole of society, given that sport creates wealth, security, and is a beacon of hope for peoples and individuals".