President of the Governing Council of ISDE and lawyer of the Bar Association of Madrid, Jorge Pintó Sala, participated last Week on the 24th in a Practical Application of Regulations Leases Local Business, organized by the Chamber of Commerce and Industry Madrid, in collaboration with the law firm Coello de Portugal, the Confederation of Employers of Madrid (CISM) and ISDE.
The Hall of the Chamber of Commerce of Madrid, full of lawyers, businessmen, asset managers and other professionals, have witnessed this successful congress, on the practical application of the rules on leases of business premises.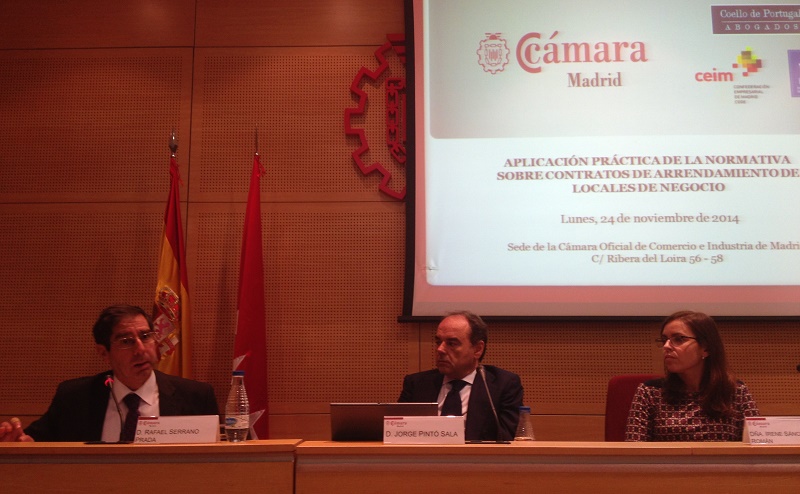 The director of the legal department of the Chamber of Commerce of Madrid, Irene Sanchez, opened the day by welcoming attendees and speakers. Subsequently, she gave the floor to the president of ISDE (Institute of Law and Economics), Jorge Pintó Sala, who emphasized the importance of the law of leases 1994 in its attempt to harmonize the revised text of 1964 and the so-called Decree Boyer.
Meanwhile, Iñigo Coello de Portugal, managing partner of Coello de Portugal Lawyers, intervened then highlighting the importance of the subject and presenting the speaker of the day, counsel Rafael Serrano Prada, who made an accurate description of the transitional provision 3rd Law of Urban Leases (LAU) and their effects, which completed brilliantly with a detailed jurisprudential analysis applied to the subject under study.
Finally, a discussion between attendees and speakers which was very useful to clarify concepts and doubts among both employers and among lawyers started off. The ceremony was also attended by Secretary General of the Chamber of Madrid, Manuel López-Medel and its director, Miguel Garrido.
ISDE taught successfully for years the Master in Property, taking place in online methodology to facilitate the participation of professionals who wish to specialize or update their knowledge in this field while combining it with their work.
The Instituto Superior de Derecho y Economía is the first Spanish Law School in achieving recognition of the Bar of Madrid and Barcelona and has the approval of the General Council of Spanish Lawyers (CGAE) and the Council of the Bar Associations Association of Catalonia (CIPAC).
It offers together with the Carlos III University's, the Master of Access to Lawyers and has become affiliated center to the Complutense University of Madrid to launch the double Degree in Law and Master in International Legal Practice starting the next academic year 2015-2016.
At the international level it has academic relations with British universities of Cambridge and Oxford, and the Columbia and University of Florida in the US.