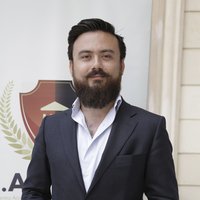 The lawyer Alexandru Lazar, ISDE professor, has been awarded with the European Gold Medal, Job Performance, granted by the European Association for the Economy and Competitiveness. The ceremony event was held February, 16 at Eurostars Suites Mirasierra Hotel.
Lazar is professor at ISDE and Pompeu Fabra University. Likewise, Lazar is member of the Real Academy of Jurisprudence and Legislation, as associate collaborator. Alexandru Lazar is currently partner at IntLaw Abogados, specialized in Business Law, Company Law, Contract Law and Compliance.
Lazar has published large articles on legal magazines and has been honoree with the International ISDE Legal Award 2014 and with the Jury Award 2017 granted by the Business Schools Spanish Association.