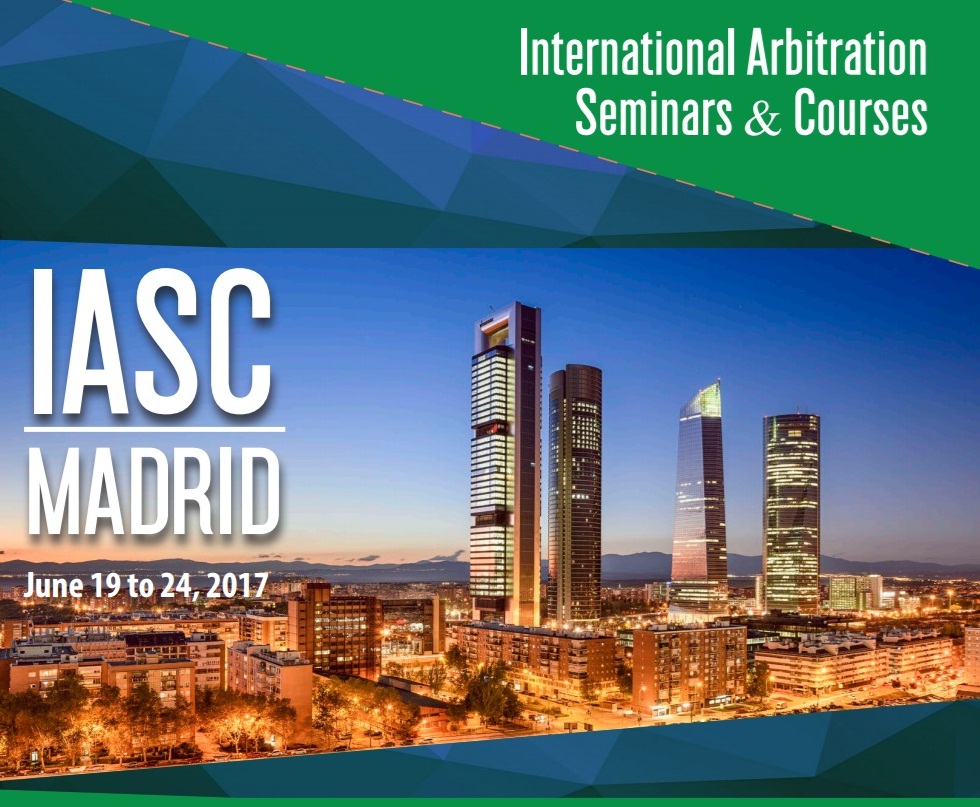 Given the continuous ISDE's objective to always offer the best and most updated education to its students, ISDE is actively collaborating with the International Arbitration Seminars &Courses which organizes IASC with the institutional support of the Court of Arbitration of Madrid, the International Court of Arbitration (ICC), the Young Arbitrators Forum -YAF ICC-, Hogan Lovells, Pérez-Llorca, PwC, the Spanish National Council of Law Students, Carlos III University in Madrid and ISDE,  having taken place the first edition of this Courses and Seminars in Mexico last week.
In this occasion ISDE will collaborate with IASC-Madrid, an intensive course of one week of length that will provide students with the necessary training to become future international arbitration game players.
When?  The course will take place from June 17 until June 24, 2017 in Madrid.
Where?  Unique opportunity to practice International Arbitration in several locations: Corte de Arbitraje de Madrid, at c/ Huertas, 13 (General Courses and Hearings), Hogan Lovells at Paseo de la Castellana, 36 (Workshop on Oral Advocacy), Pérez-Llorca Headquearters at Paseo de la Castellana, 50 (Workshop on Cross-Examination) and ISDE Headquarters in Madrid at c/ Recoletos, 6 (ICC YAF Workshop).
Fees:  580 Euros.
The course will count with an extraordinary Faculty composed of highly regarded professionals (arbitrators, lawyers, experts, academics and representatives of arbitral institutions) who will share experiences with students through a one-on-one approach.  It will include a mock case in order to explain attendees all the stages of the arbitral procedure and several social events in order that students may exchange thoughts and enrich their networking.
For further information of this event (complete agenda, schedule, locations, etc.) click here.
In order to motivate and help outstanding students to introduce them in the International Arbitration field, ISDE will grant 3 full scholarships to those interested, in order they enroll this course.
If you are interested in one of these scholarships, please, send us your updated CV before 16th of June 2017, to idiez@isdemasters.com.
Do not lose this unique opportunity!