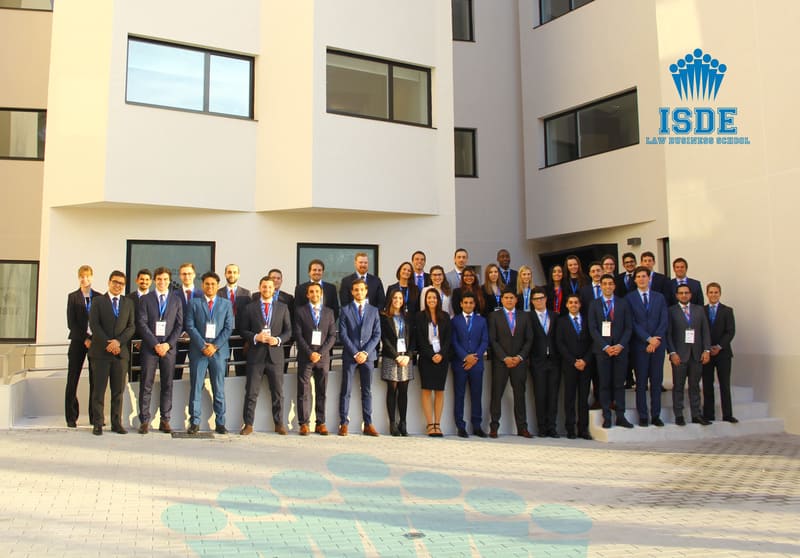 The opening ceremony of the Master in International Sports Law, has taken place at ISDE's new Serrano street headquarters in Madrid.
Some students were not present in the inauguration due to visa related matters.
The event was chaired by Honorable Mr Jorge Pintó Sala, President of ISDE, Honorable Mr Juan José Sánchez Puig, General Director of ISDE, and Professor John White, Director of the Master. They all gave some warm words of welcome to the new students.
Firstly, Honorable Mr. Juan José Sánchez Puig inaugurated the ceremony by welcoming the students and thanking them for their confidence in our institution: "We expect you to be excellent students and work hard, as this is the beginning of your professional careers. As you know, ISDE is a leader in worldwide sports law training with presence in practically all markets. ISDE will be supporting you during this important challenge."
Professor John White began his speech by welcoming the students and sharing with them the outline and characteristics of the program, which in his opinion are as follows: "I have been working with ISDE for a number of years as UK Programs Director. Welcome to ISDE, to the Master and Madrid, a great city that is in par with my beloved London. I like to combine business and pleasure, Law is my business and Sport is my pleasure. Sports Law is sexy and also a good earner. We are proud to have these magnificent new headquarters, near the Santiago Bernabéu stadium, in an increasingly academic part of the city. However, you must judge the institution not just by its building, services etc.. but mainly by its faculty, track record, training method and excellence based know-how"
Immediately thereafter, the forty four students shortly introduced themselves to the rest of the classmates and explained their expectations with regards to the Master. This edition of the program has gathered students from twenty one different nationalities, which reinforces the existing international character of ISDE. The countries represented are: Saudi Arabia, Spain, Germany, Argentina, Australia, Azerbaijan, Belgium, Brazil, Colombia, Ecuador, France, India, Ireland, Italy, Mexico, New Zealand, Canada, Slovakia, Switzerland, Uruguay and Venezuela.
Then, Marco Vedovatti, former student of ISDE's Master in International Sports Law, 2012 edition, currently working in the Arbitration department of top tier Spanish Law firm, Cuatrecasas, shared his own experience with the students and gave them some pieces of advice regarding the program.
Lastly, Honorable Mr. Jorge Pintó Sala concluded the ceremony by welcoming the students and sharing some professional thoughts, forged by years of experience as a lawyer: "Please work hard with ethics always in mind. Remember that your clients will listen and trust you advice wholeheartedly. We expect a lot from you, welcome to ISDE".
We wish the students the greatest success during the next year and we welcome them to our great family.