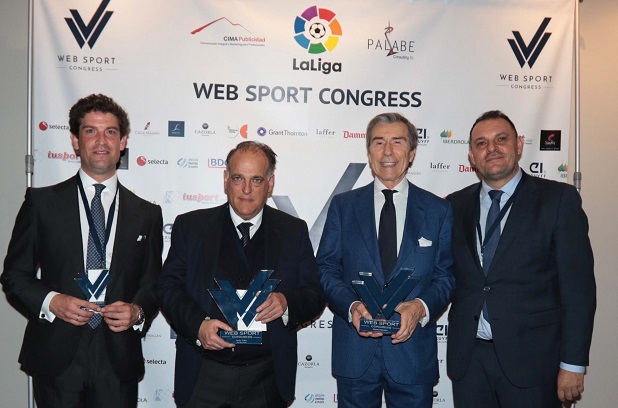 Gianni Infantino, FIFA president; and Javier Tebas, LaLiga president, were awarded last Friday in the context of Web Sport Congress celebration. Both prizes were presented by Germá Ruiz, CIMA Publicidad Deputy General Manager. First award was National Award Web Sport Congress 2018 delivered to Javier Tebas and second one International Award Web Sport Congress 2018 to Gianni Infantino.
Infantino was awarded for his support to VAR (video assistant referee), a system that will be introduced in LaLiga the next season. Infantino, that participated in the Congress via streaming, represented his resolute position for this technology: "It cannot happen that everybody can watch an error on TV and not the referee", said. The FIFA president also stated that VAR impact in a match development is perfectly assumable: "It takes one minute to check each situation, worth it".
Javier Tebas, by his side, was awarded for his management as the head of FIFA. Tebas participated in a roundtable about Sport Broadcasting, sponsored by IUsport over the course of which speakers pointed out the huge ways of customization that this technology provides. This technology is now setting up in marketing and business intelligence areas. Tebas president explained that LaLiga has twelve computer technicians exclusively dedicated to avoid piracy of contents. In the same roundtable participated Mr. Alejandro San Agustín, Google Senior Technology Manager; Jordi Urbea, OgilvyOne Barcelona General Manager; and Julio Farinas, Fotters CEO.