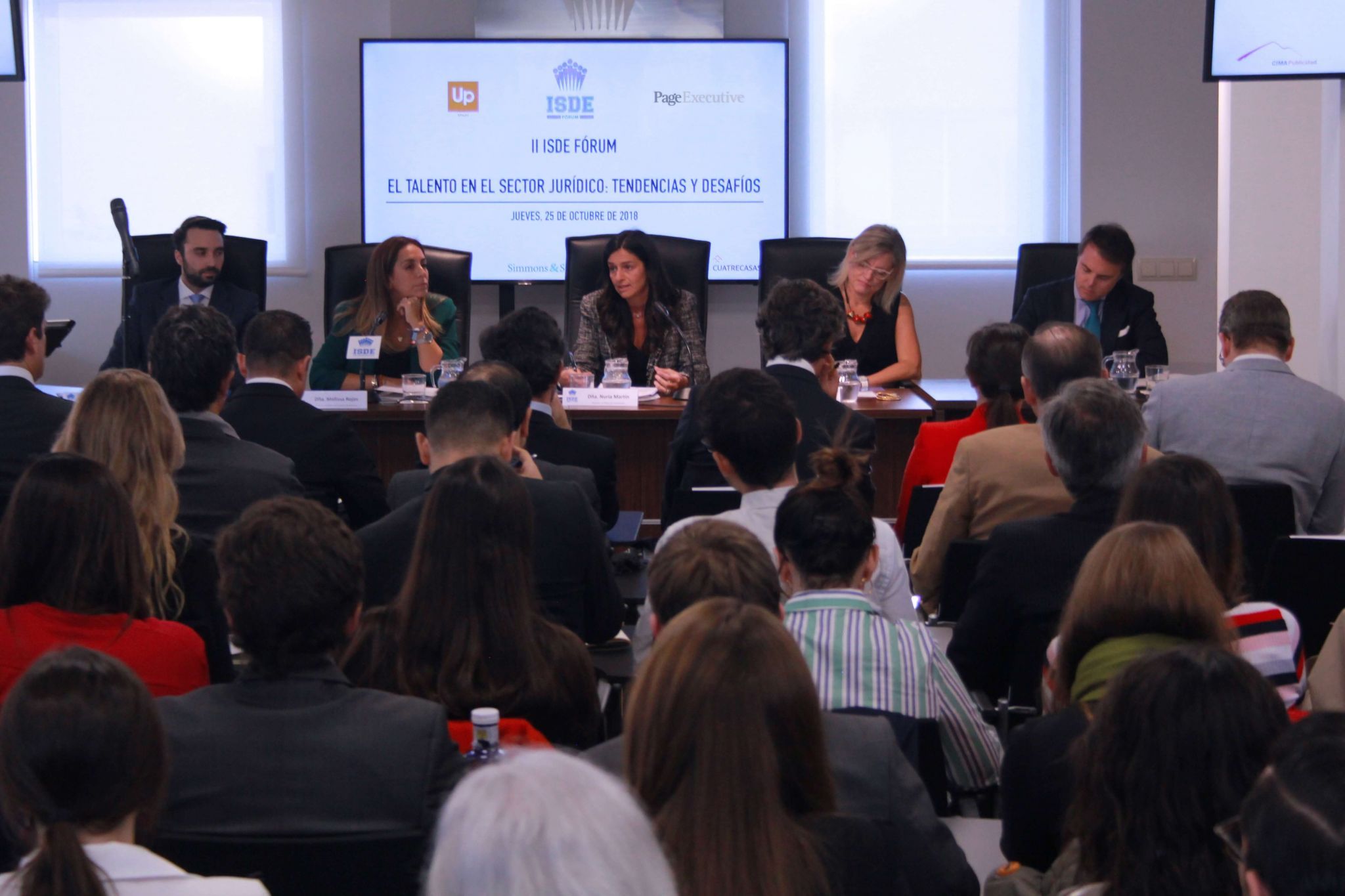 The need to transform organizations has become one of the top priorities for law firms, which is a major challenge for human resources managers worldwide.
The importance to attract the right talent, the search for continuous learning models among employees and the lack of agility to respond to changes are other challenges that human resources departments must face in the short term.
To analyze these challenges, ISDE, by celebrating the second ISDE Forum, has brought together prestigious industry experts such as Melisa Rojas, Simmons & Simmons HR director, who stressed that "we must go beyond disruptive technologies that not only affect the work of the lawyer but of his client ".
On the other hand, Nuria Martín, director of HR of Cuatrecasas, pointed out that "technology is a driver to go to work forms more agile and more collaborative. The talent must serve to manage new spaces, new processes and new culture ". She also indicated that "continuous training and specialized training is almost a requirement for new lawyers. Having a global profile is not only a matter of languages; it has to do with some attitudes, a culture and definitively with some skills. The lawyer of the future will essentially be a transversal counselor. "
For his part, Alberto Cabello, president of the Association of Young Lawyers of Madrid, stressed that "the professional beginnings are hard, specialization and differentiation are key. The talent must be associated to training, to networking, to tirelessly cultivate human relations and to develop not only healthy competition, but above all collaborations between lawyers and between teams of multidisciplinary lawyers. The young lawyer must be essentially vindictive and non-conformist ".
Also, the HR director of UP SPAIN Mónica Torre wanted to emphasize that "we must develop remuneration policies, flexible and contemplate more every day the social benefits. The company to retain, which is not the same as retain, must listen at all times the needs of promotion of the worker and offer different incentives depending on the stage of life in which he is. We must listen and generate the framework for professionals to go their own way. "
Finally, Sancho Peña, partner of Michael Page Executive, has indicated that "talent is not only possessed, it must be developed". In addition, he added that "each person must decide what they are willing to sacrifice of their personal and private life. It has enormous value when something that seems obvious to us, that the client has to perceive that the lawyer is not only for the good but also for the bad, in a close and human way. The human and psychological facet is key to connecting a person with a company and organization "