Last Wednesday, the opening ceremony of the International Law, Foreign Trade and International Relations LL.M. was held at ISDE's offices in Madrid. The ceremony was opened by Jorge Pintó Sala, the Chairman of ISDE; Juan José Sánchez Puig, the Director of ISDE, and Pablo Paisán Ruiz, the Director of the Masters programme.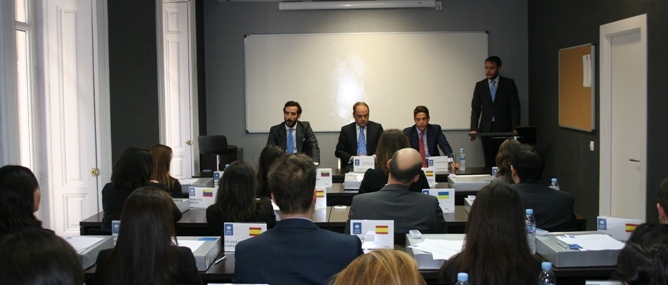 The event was also attended by Alejandro Zapata, an alumni of the second edition of the LL.M., who spoke about his experience of the course and his current job as a lawyer at the Goñy y Cajigas law firm.
There are more than 10 different nationalities represented in this edition of the LL.M., including students from the United States, Ukraine and Nigeria. During the first stage of the LL.M. -in addition to attending classes in Madrid- students will also attend classes at Columbia University in New York for one week; furthermore, during the work placement programme, they will acquire a more in-depth knowledge of the international legal profession by working at a national or international law firm.
The excitement and enthusiasm of the ISDE management, staff and students as the new academic year begins was palpable at the opening ceremony.
The Admissions Process for the programme commencing in September 2013 is already open.